ABOUT STAHL FIREPIT
Our Story
Based in the Pacific Northwest, Stahl Firepit began in 2013 when the yet-to-become founders were seeking a functional yet stylish fire pit for their own backyard. Having experienced various fire pits that didn't survive more than one season outdoors, the search for something durable, clean and modern was on. Noting a serious lack of affordable, high quality fire pits, they were inspired to answer the call themselves, and hence, Stahl Firepit was created.
After many rounds of designs and templates, their finished product quickly became popular among friends and family.
"Every time we'd have people over they'd comment on the fire pit. We loved the durability of the A36 steel and how beautifully it was beginning to patina over time. Almost as if it is changing along side of us, fire after fire. At last we had our ideal fire pit– modern, clean, and simple, a great place to gather with friends and family, share memories, and just appreciate the moment."
Our Products
Our firepits are made from hand selected A36 hot rolled steel, which develops a beautiful patina that matures in character as it ages. With time outdoors, your firepit will naturally lighten, changing from a dark blue to an autumn gold. After its first season, expect it to adopt a lovely golden tint. By the third season (climate dependent), it will fully patina into its final shade of rich autumn, with a distressed look completely its own.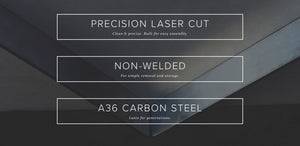 Our Values
Gathering Together
We believe in the value of bringing family and community together to share their happiness as well as their struggles in a warm and open environment.
Quality
We value quality. As many in our culture are learning, it isn't about having more, it is about having items that will last. We believe in our product as an investment that will last a lifetime.
Simplicity
We believe in clean design, as well as ease, and we've kept these values in mind with our products. Not only in the way they can be boxed, shipped, and stored, but also in their minimalist aesthetic and easy of assembly.